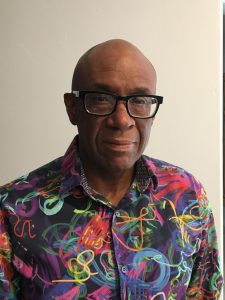 Xolani "xk" Kacela, Ph.D. is the author of several other books, including Finding Your Way Home, Hard Things, Get A Hold of Yourself, The Black UU Lives Survival Guide. and It's Your World. He has published numerous articles on faith, theology, and other contemporary subjects.
Career
Kacela serves as the minister of the Unitarian Universalist Church of Las Cruces, New Mexico. Before that, he served UU congregations in Dallas, TX, and Durham, NC. He has worked as a hospice chaplain.
Xolani is a chaplain in the New Mexico Air National Guard, in Albuquerque, NM. Also, he served with the District of Columbia National Guard at Joint Base Andrews and worked at U.S. Special Operations Command at MacDill Air Force Base in Tampa, FL. He began his military career with the Texas Air National Guard in Ft. Worth, TX. He has deployed four times, including service during Operation Iraqi Freedom.
Education
Kacela has four earned degrees, including a doctorate in pastoral theology and pastoral counseling from Texas Christian University. He earned his BBA in Accounting from Morehouse College.
Radio Host – Take On Faith
In 2020, xk started hosting a weekly radio program on the Las Cruces community radio station. It is called Take On Faith. Initially, the program began with two hosts. The other host left following episode #1.
Take On Faith airs on Saturdays at 10 am Mountain Time on KTAL-LP, FM 101.5 from Las Cruces, NM.
The show offers listeners insights to many faith groups. As host, Kacela brings guests who are pastors, lay leaders, writers, and people with unique views. For example, guests included a rabbi, a writer on mysticism, as well as clergy spouses.
Kacela defines faith broadly. He views faith as a gift from the divine, the universe, or God. Faith grows as people live and experience the world around them. Your faith changes as you meet new people, discover spiritual practices, and join enter religious communities.
Faith is dynamic. It gets shaped by struggles, beliefs, and outcomes.
For these reasons, and many more, xk wants listeners to hear many perspectives. He believes in the goodness of all spiritual paths.
Many people don't agree that other paths are true. Those views point to personal beliefs and choices. Those views do not erase the truth in other religions.
Take On Faith is a place that welcomes all spiritual perspectives. The host does not argue with guests. The goal is understanding and enlightenment.
Personal
Xolani lives with his wife, Tamara, in Las Cruces, NM.
Click here to return to the home page.