Dr. Janice Marie Johnson
Take On Faith – June 2021
Dr. Janice Marie Johnson, Co-Director of Ministries and Faith Development at the Unitarian Universalist Association (UUA), is the guest of this episode of Take On Faith. The show, hosted by Rev. Xolani Kacela, broadcasts on KTAL-LP 10.5 in Las Cruces, NM. The show airs on Saturdays at 10 am MT.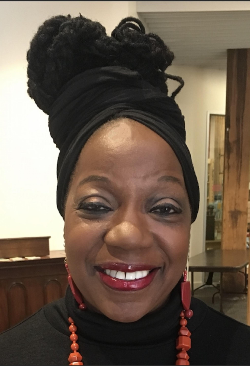 Dr. Johnson, an expert on religious leadership, explored many topics which are high priority for liberal religious faith leaders. First, she discussed her grief following her twin sister's death this year. Then, she talked about the collective grief many experience around the globe due to the pandemic.
Importantly, Dr. Johnson described the Unitarian Universalist (UU) faith, which many describe as a liberal religious faith tradition. Next, she spoke about the UU seven principles and the UU mission and vision for ministry. She talked about her view of the religious landscape as one of most senior leaders in the denomination. Also, how leaders at the top guide a denomination.
Interview Highlights
Prophetically, Dr. Johnson offered words about healing our nation and world by adhering to love, compassion, listening, empathy, and other virtues.
Of particular note, Dr. Johnson and Kacela discussed in-depth challenges for those disrupting white supremacy culture. This effort stands at the forefront of UU ministry. Together, they unpacked the need for white people to share power and honor BIPOCs (Black, Indigenous people, and people of color) realities and experiences.
Of great significance, Dr. Johnson provided insights for healing racial division. Likewise, you'll want to learn her take on the differences between liberal and conservative faiths.
Skillfully, Dr. Johnson shared how love and listening are two important factors for all ministry. You'll enjoy this powerful conversation with a major thought leader.
You can reach Dr. Janice Marie Johnson at jmjohnson@uua.org.