Dr. Larry Ward
Take On Faith – July 10, 2021
Dr. Larry Ward practices as an ordained Buddhist teacher and ordained Christian minister. He completed his Buddhist studies with the Zen Master Thich Nhat Hanh at Plum Village in France. He authored the book America's Racial Karma, which is published by Parallax Press in 2020.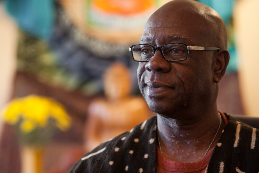 During this Take On Faith episode, Dr. Ward and host Xolani Kacela discussed subjects covered in his book. They explored Ward's experience of race while teaching in China and Africa. Ward discussed the importance of being in the body.
He shared what it means to be African American and Buddhist. His research covers the beginning of racism. Also, the show explored his meditative and prayer life and the reflective work covered in the book.
The conversation covered how spiritual practices can heal the racial divide in America. Host and guest explored neuroscience, trauma, embodied spirituality, and how history and truth impact human identity and emotions.
You can contact Dr. Larry Ward at larry@thelotusinstitute.org.
From Guest's Website:
So says Zen Buddhist teacher Dr. Larry Ward.
Shot at by the police as an 11-year-old child for playing baseball in the wrong spot, as an adult, Larry Ward experienced the trauma of having his home firebombed by racists. At Plum Village Monastery in France, the home in exile of his teacher, Vietnamese peace activist and Zen teacher Thich Nhat Hanh, Dr. Ward found a way to heal. In these short reflective essays, he offers his insights on the effects of racial constructs and answers the question: how do we free ourselves from our repeated cycles of anger, denial, bitterness, pain, fear, violence? Larry Ward looks at the causes and conditions that have led us to our current state and finds, hidden in the crisis, a profound opportunity to reinvent what it means to be a human being. This is an invitation to transform America's racial karma.